Facebook Page Types
There are three types of Facebook pages...
The Personal User page
Everybody need one of these to log into Facebook to gain access to the other type of pages.
User pages have "friends"
The Group (Community) Page
This is used by multiple users to share photos and comments together.
It is not recommended for Businesses
It is difficult to add Group Streams on your website (March2012)

If you create a Community page and it gets very popular, you run the risk that Facebook will take over the administration of that page and you will lose all control over it

Facebook Group pages are not listed on search engines
The Fan Page (For Businesses)
Users can "Like" these pages. When they do, users get the page's updates on their news feed.
Was renamed to be called "Offical" page.
Users can be assigned as a Admins to control content on the Fan Page. (They first need to "Like" the page.)
Muliple users can administer the Fan page.
There are many Fan Page types - such as Local Business or Place, Company, Brands, Artist, Public Figure or Band, Entertainment or Cause and Community.
Fan pages can be created here: http://www.facebook.com/pages/create.php
Uploading Music to your Facebook wall
Facebook lets you easily upload videos and pictures, but for some reason it is difficult to upload mp3's and music. But it can be done!
The trick is to first save your mp3 on another website.
Step 1: Uploade your mp3 on another website. It will then have a website address (ie: http://antoniosplace.com.au/images/stories/music/the_power_of_now.mp3 ).
Step 2: Log into Facebook and go to your own wall. Type the website address of that mp3 into the status box.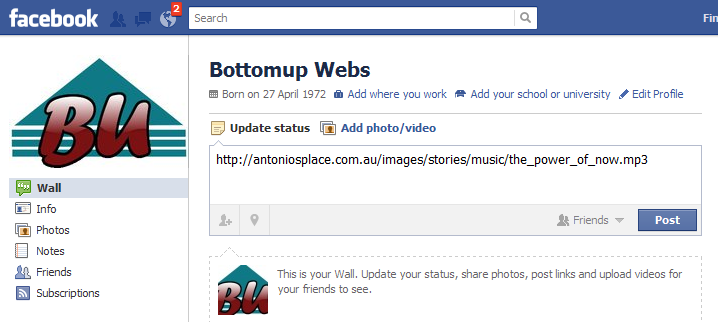 Step 4: Facebook will then recognise it as an mp3. You can now overwrite the address and put some text in, also change the Artist and Album info. When you are done, click the Post button.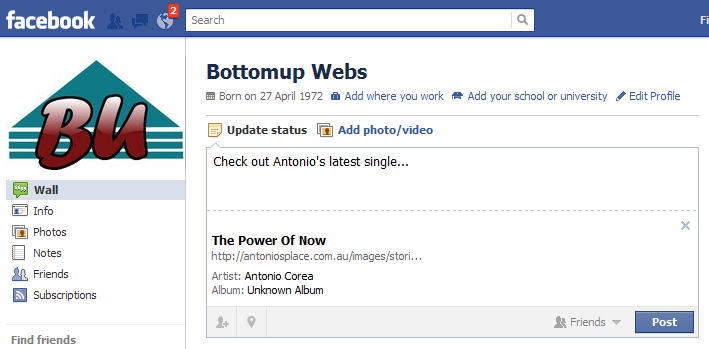 Finish: When you are done, it should look like this...

(This info is subject to change - but is was relevant 11/11/2011).