Beware of the Domain Renewal scam. It can come in the post - and by posting this scam through the mail fools a lot of people.
They often try to scare you into paying fast - something along the lines of...
"Your registration will expire on April 2008. Act today!. You must renew, failure to renew your domain name by the expiration date may result in loss of your online identity..."
There are many different varieties of the scam, but here is one version...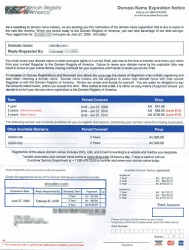 If you have a hosting and maintenance package with OrganicWebs, then you won't be approached by any other third party. If you get a letter like this one, let us know, but don't do anything.
By transferring your domain over to these scammers, you transfer the control of the domain to them. This is not a good thing.